As a small organisation with a big reach, it's important that we at Engage Liverpool takes steps to measure the impact of our work, so we can identify areas for improvement, or new opportunities to fulfil our Strategic Aims.
Spring is a perfect time to take a look back at some of the work we've done over the past year—including our 2018 "Cities of Inspiration" seminar series, our 2019 Waterfront Residents Meeting, and our Grapevine email service which is about to celebrate its 1 year anniversary in April—and see who we're reaching, and what they think of the events and services we provide.
2018 Cities of Inspiration seminar series
Following on from our hugely successful 2017 "World Heritage: A Status worth fighting for?" series, and our crowdfunder which raised over £1500 to give Liverpool residents a literal voice at the UNESCO World Heritage Committee meeting in Bahrain in June, our 2018 seminar series looked beyond the UK, at how other World Heritage "Cities of Inspriation" handled development, planning, and consultation in their World Heritage Sites.
Our impressive speaker list included politicians, planners, and architects from Strasbourg, Bordeaux, and Hamburg, and we were lucky once again to be able to host the three events in three buildings residents rarely get to see inside – the Port of Liverpool Building, Cunard Building, and Royal Liver Building, on Liverpool's Pier Head.
This seminar series was also the first outing for what has now become an Engage Liverpool tradition – our friendly feedback forms! These simple forms help us gather feedback from our event attendees, finding out, for example, how many have been to an Engage event before, or how many learned something new this time, and most usefully, we also ask people for their postcodes, so we can track where our attendees have come from.
For a seminar series with over 200 attendees, we were excited to find that our visitors came from not only Liverpool city centre, but also the wider city region, and even Manchester, Cheshire, and North Wales beyond, as you can see from this representative sample of responses to our Bordeaux (blue) and Hamburg (red) seminars: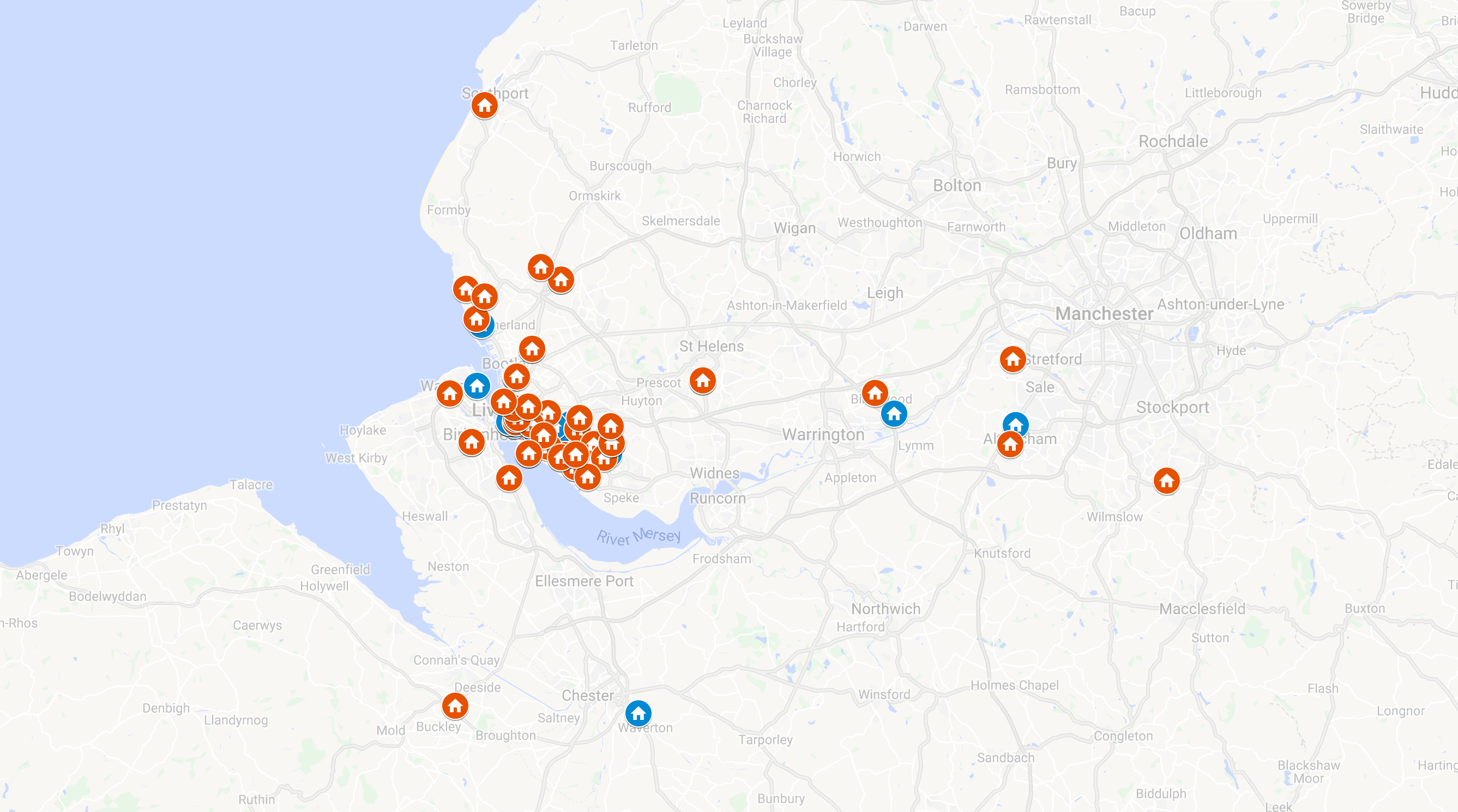 Zooming closer in, we can see that we were joined by attendees from Garston, Woolton, Belle Vale, and Wavertree – showing how residents even far outside Liverpool's city centre value its World Heritage status: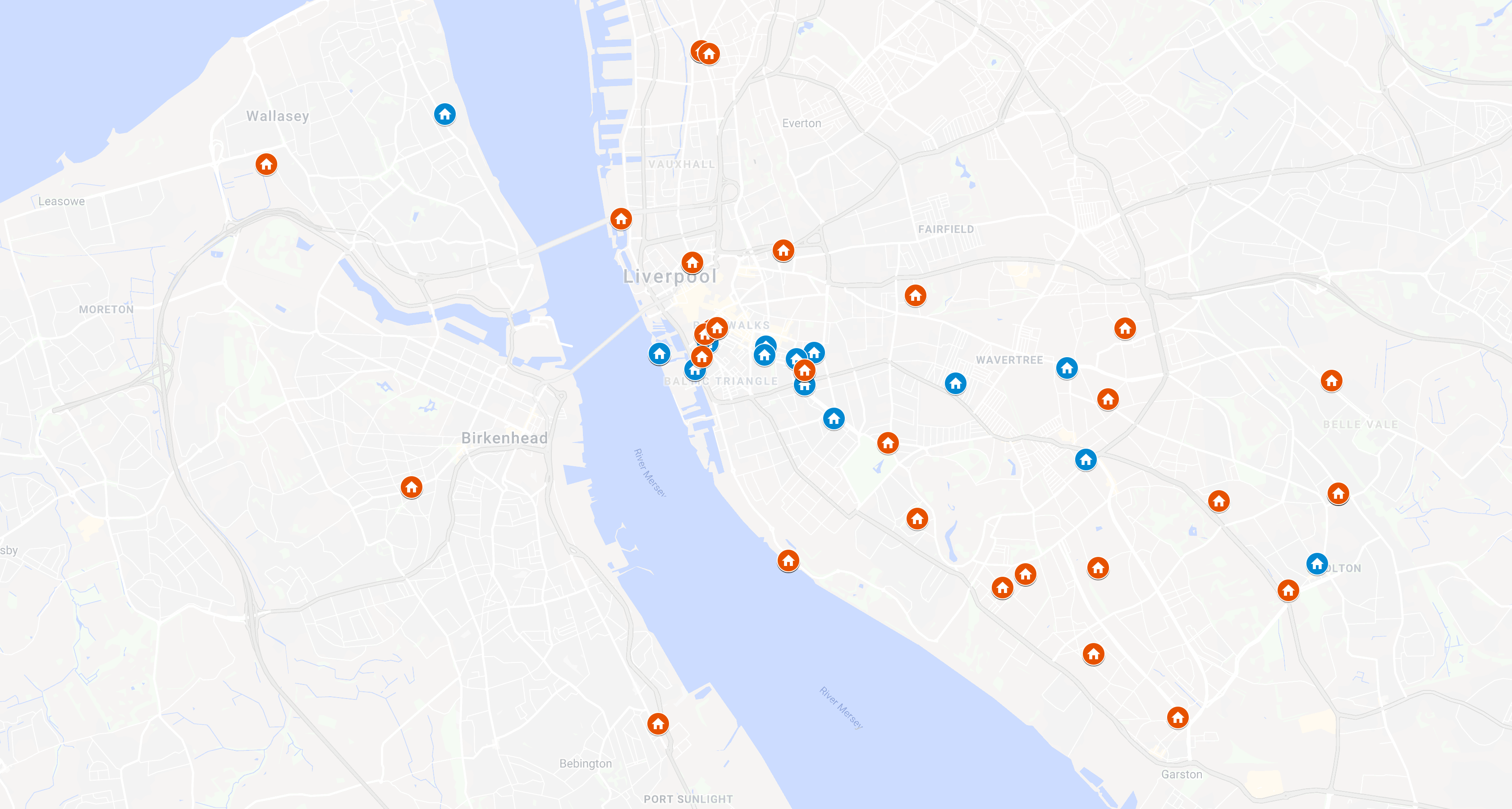 Our feedback forms also help us find out what attendees thought of the event. Here's a selection of the responses from our Bordeaux seminar:
"Thought provoking in terms of what Liverpool can do in terms of transport issues. Concerned no open places in a windy city like we have."
"Very inspiring! Some great lessons on how we can use our WHS status more effectively."
"I'd like to see more events like the WHS seminars and also about participation in developers in the city centre."
"The settings for the 3 UNESCO meetings have been very well chosen and exciting."
"These are marvellous seminars asking truly important questions for future developers and wellbeing of the city. Thanks so much!"
The forms also help us detect when people are unhappy! In the case of our Bordeaux seminar, the combination of a spectacular but cavernous room, and a limited PA system meant sound was an issue:
"Difficult to follow verbal presentation. Would be good to receive presentation as PDF."
"Love what you're doing. Keep it up! But sound system let you down. Missed so much of what is said. Clarity, not the volume."
"It was difficult to hear at times."
Happily, for our Hamburg event, it looks like we were back on form:
"More!! Fascinating ideas forum, perhaps more engagement with local planning authorities etc, can it be more frequent? Brilliant!"
"You are doing a great job for all citizens of the city."
"Engage is second to none in laying on these important events for this city. Please support more of these!"
"Very worthwhile series + good to see how other cities embrace their World Heritage Status."
"These are great seminars. More more more :)"
We also gather extra information about the visitors and what they thought of the events. Here's a summary:
| | Bordeaux seminar | Hamburg seminar |
| --- | --- | --- |
| "I learned something I didn't know before" | 95% | 98% |
| "I met someone I didn't know before" | 88% | 92% |
| "I would come to an event like this again" | 100% | 98% |
| "I have been to an Engage Liverpool event before" | 66% | 85% |
90% on average saying they met someone they didn't know before! Now that's Engage Liverpool delivering on its mission of bringing Liverpool residents together.
2019 Waterfront Residents Meeting
If we were pleased with the turn-out at our 2018 seminar series, then it's safe to say we were blown away by the number of waterfront residents who attended our 2019 Waterfront Residents Meeting on 23rd January. Almost 150 people battled through cancelled trains and freezing rain to hear 5-minute updates from businesses, planners, and developers working with sites all along the waterfront.
The spread of attendee postcodes for this meeting centred much more heavily on the waterfront – testament to the focussed content, and the flyers our board members had hand-delivered to waterfront properties in the early weeks of January!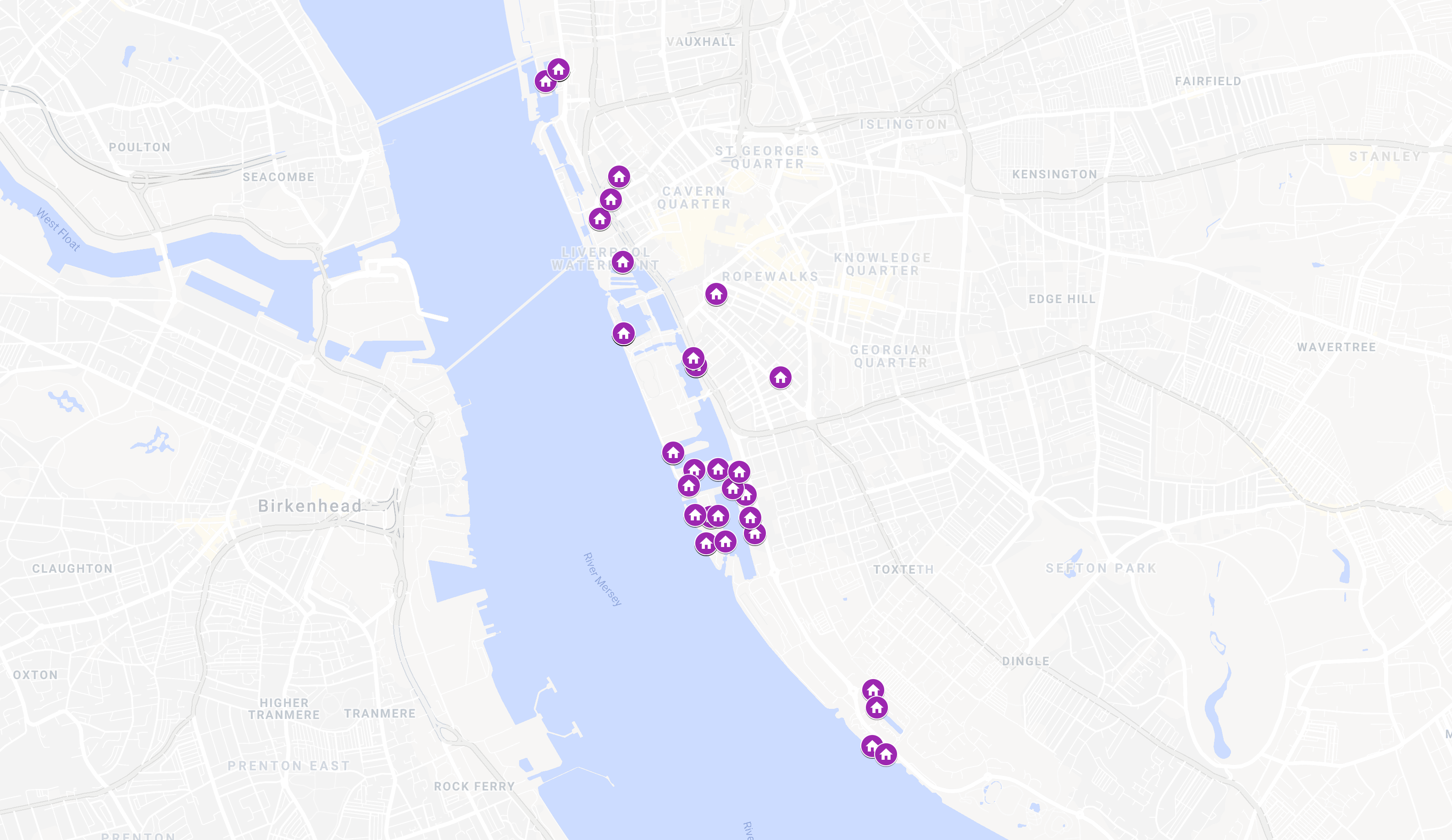 Feedback was, again, very positive, with the height of the TV screens (on which slides were shown) and the unfortunately limited question time being the two main issues:
"I have attended previous events and they have all been very informative. Brilliant work!"
"Really interesting. More time for questions please."
"Very informative event, great for getting residents from a large area together."
"Would be helpful if slide screens were higher so all could see."
"Very useful event, will come again. Thanks to all contributors."
"Excellently delivered event."
We were particularly proud of how many attendees to this year's Waterfront Residents Meeting had never been to an Engage Liverpool event before – we hope this one won't be their last!
| | 2019 Waterfront Residents Meeting |
| --- | --- |
| "I learned something I didn't know before" | 93% |
| "I met someone I didn't know before" | 77% |
| "I would come to an event like this again" | 92% |
| "I have been to an Engage Liverpool event before" | 50% |
Grapevine
No summary of our impact would be complete without looking at our monthly Grapevine email service, which started in April 2018. Every month the Grapevine brings its readers the latest local news, events, and consultations, so they can get involved with life as Liverpool city centre residents.
Not a Grapevine subscriber? Read our past issues, and then sign up for free right now!
Unlike other organisations that add any old email address to their mailing list, we wanted the Grapevine to be high quality from the start. And that meant making sure that only people who explicitly opted-in would receive it. This means our subscriber count took a hit (it's currently at about 200 people) but those subscribers really value the information we provide.
Each Grapevine issue routinely achieves a 70–80% open rate, and 40–50% click rate, which is miles above the 20% open / 2% click industry average for the non-profit sector.
When attendees to our 2018 Seminar Series were asked "Where did you hear about this event?", 26% said they heard about it through the Grapevine.
News items about proposed developments and consultations in the city centre and waterfront are always the most popular, so we'll make sure to keep our eye out and keep delivering more of the same in 2019.