On Friday 2nd June Richard Steel from Laguna Science came to City Quay and spent the best part of the day restocking the lake with a series of aquatic plants to replace the ones we planted last year and never survived.
At this stage we are trying to work out which ones will flourish so we can target future planting which will help us to improve the water quality that is in such a sorry state right now. Please take a walk around the water feature to see the new plants and help us watch them. We know that any arrival of Canada Geese will decimate the plants and so we rely on your vigilance to do all we can to keep the geese away until the plants are fully established.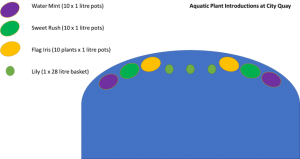 This is a complete list of which plants, how many and where you can find them.
We hope we can depend on all residents at City Quay to take an interest in the water quality of the lake and support our efforts to improve it. We have tried very hard, unsuccessfully it must be said, to clean the water on the cheap. We are very reluctant to spend service charge money on this project but we also realise it is an essential character of our estate and will ultimately affect the price of our apartments if we cannot restore the water to it's original condition.
Richard Steel added the following information in his email to CQMC:
In addition 100 bunches of floating Hornwort have been introduced. All emergent plants have been introduced in their supplied pots which have been trapped into the cobble covering on the marginal shelf.  I was hoping to install the lily baskets on the marginal slope using some retaining concrete blocks but the angle is too steep and the liner to slippery to have confidence that they will stay in place. Therefore they have been placed on the edge of the marginal shelf. You need to monitor water levels to ensure these  pots remain completely submerged.  The plants are resistant to waterfowl once establish but at this stage all the plants are potentially vulnerable to grazing so it would also be worthwhile monitoring the waterfowl activity on the lake. As previously indicated these plant introductions should be viewed as a trial given the limited substrate available to the plants. However, it may be possible that some may establish by growing out of their pots and the root structures growing through the cobble covering of the marginal shelf.   The plantings have mainly been undertaken to determine which species will survive and whether additional waterfowl protection measures would be required during the establishment phase for any future marginal plant introductions.