Engage is delighted to support the High Streets project being launched by PlacEd whose founder and CEO Jo Harrop is one of our Liverpool panellists at the Delightful City seminar on Saturday 20th June.
SHAPING THE FUTURE OF LIVERPOOL HIGH STREETS WITH PLACED ENGAGEMENT, A NEW ONLINE ENGAGEMENT PLATFORM
PLACED is pleased to introduce their new digital community engagement platform, creating a place for people to share ideas about places and spaces in their town and cities.
PLACED launched the engagement platform with a project called Liverpool High Streets, engaging the people of Liverpool in a conversation to discover opinions and thoughts on how high streets should feel and function, the types of activities, services and spaces on offer and how they should adapt in 2020 and beyond. 
High streets across the UK have been rapidly changing over recent years, with many being affected by the closure or relocation of local shops, the neglect of public spaces and the reduction of maintenance budgets. Covid-19 has brought these issues into urgent focus as people's priorities, spending habits and desires have shifted. The project provides a digital platform for the ideas of the community to be heard, and can be found at https://www.placed-engagement.org.uk/highstreets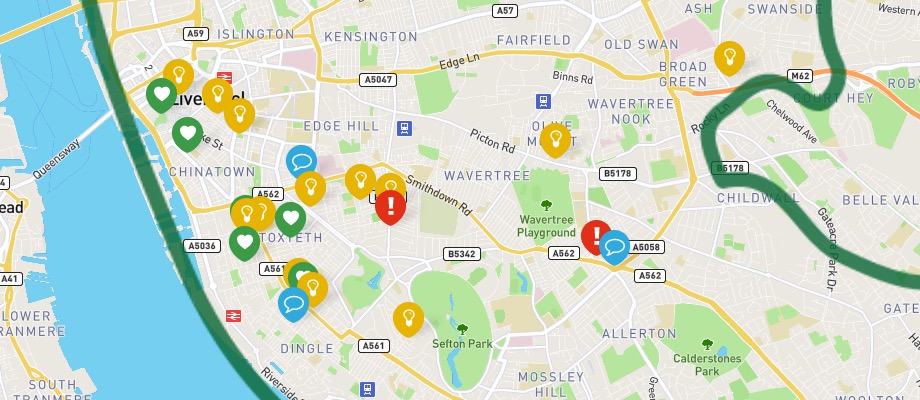 The online engagement platform is being used in response to Covid-19.PLACED are typically found on high streets across the northwest with their campervan, in community buildings and hosting pop-up shops, delivering events and activities that engage communities to shape their towns and cities. The new interactive platform enables them to involve communities in discussion about their built environment, in lockdown. It is intended to be a live platform that grows with feedback, questions and ideas, whilst communities are unable to be out and about. Visitors can share their thoughts on the 'Ideas Wall' and 'Interactive Map' – and as the conversation evolves, be a part of Zoom workshops and events. 
PLACED Director Jo Harrop said "We are really excited about the launch of this platform and the Liverpool High Streets project. We are passionate about broadening who can be involved in their built environment and ensuring people's voices are heard. We have no funding for this project, no-one has commissioned the work and we have no political agenda. We hope this helps to develop a positive, open discussion which can help to influence the future of our high streets. We look forward to the conversation"
The Liverpool High Streets project centres around five themes; environment and public space, economy and skills, resilient community, housing and transport and connectivity. These themes allow PLACED to form a focus for the conversation, but ideas and opinions outside of these categories are encouraged. Initially the project is focused on Liverpool high streets only but invites those from outside of the city to get involved and share their thoughts on their own high street. 
Liverpool High Streets is live NOW. To find and more and get involved visit https://www.placed-engagement.org.uk/highstreets