A change took place on Sefton Street close to Brunswick Station on 25th April 2018 when a newly arrived in Liverpool local resident walking past the above ramp and horse trough and finding it full of rubbish decided it was time he did something about it and didn't think 'someone ought to do something about this'.
He cleared it out completely of all the waste that had been thrown there and then decided to fill it with water and then bought some aquatic plants to make a feature of the trough in the beautiful surroundings in which it finds itself. The next month as the water started to clear our active and committed resident bought some fish to populate the newly re-purposed trough and to those original 5 put in on 14th May were added a further 5 on 25th May. And they thrived having babies during that summer.
This small gesture on the part of our shy but inspiring neighbour has brought immense joy to many people who have noticed what he did and stopped to take a look and admire the fish and water plants. Something done by a private individual for communal benefit. Someone kindly wrote in to the Echo on 8th June thanking our anonymous person for their altruism (LA Russell L18). And a response was published in the Letters Page on 20th June. Then in the summer of 2019 (7th July) someone 'removed' the beautiful, miniature and not-cheap waterlilly from the trough having first 'rehoused' the fish some days previous. It was devastating for our kind and generous citizen and upset many of the locals who had enjoyed over 12months of this now delightful water feature on their walk to and from Brunswick Station.
We can tell you that over £100 has been spent on aquatic plants and fish – no grants from any funds, no money from the council, not a penny of your Council Tax was misspent in providing this benefit to all citizens, it all came from one generous and altruistic person who was new to our city. When this story began to come to light it inspired another local residents to go and buy some more fish to replace the ones that had been 'rehoused' elsewhere. And they get fed, cared for and admired on a daily basis.
However recently there have been some sad episodes of anti-social behaviour at the water feature. The plants have been pulled out and thrown about and pushed to one end of the trough – not once but three times these past weeks. It might just be bored teenagers with nothing better to do during lockdown. But it is depressing and disheartening to our local resident who is putting so much effort into this small project that is making a huge difference.
This is where we all need to take a stand and do what we can to protect and preserve the work that has been done on our behalf for our benefit. Keep an eye out, pay attention to what is happening around the horse trough, 'Stay Alert', defend what has been done and take pride in something you never worked at but definitely adds value to your life and that of many.
Thank you Steven Boyd, we are all the richer and better for having you living amongst us. May you inspire more of us to become active and participatory neighbours and citizens.
Horse Trough before it was cleaned out.
Images above courtesy of John S Turner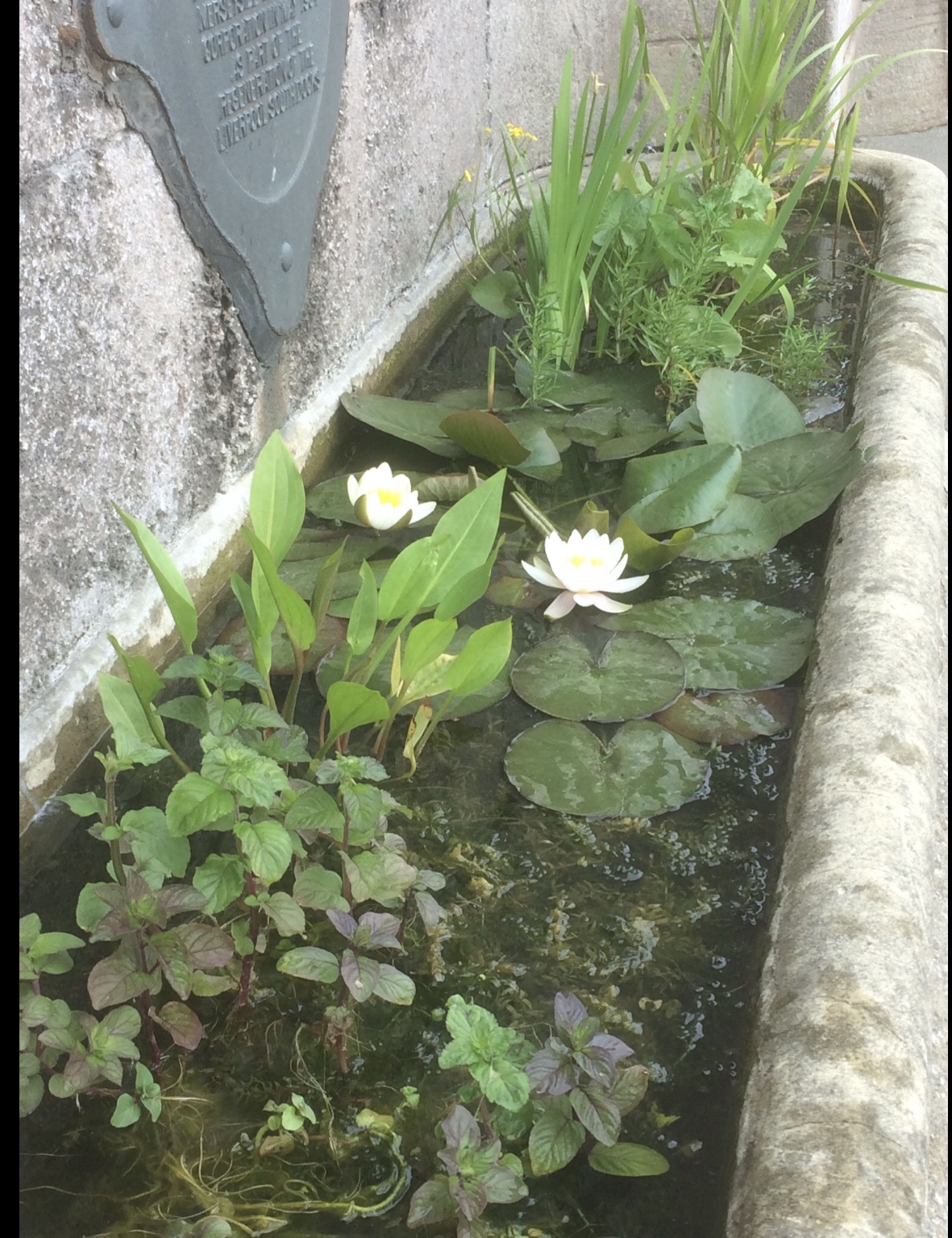 Horse Trough when first aquatic plants were installed (waterlilies were 'relocated')
Image courtesy of Steven Boyd
Horse Trough June 2020
Image courtesy of Alan Markham
Horse Trough with fish 2020
Image courtesy of Steven Boyd