This Summer, Engage Liverpool held a series of three informal "conversations" (or "provocations"!) on the role boundaries play in the heritage, culture, and communities of Liverpool.
Organised in partnership with local storytellers Wordscape, based in the Baltic Triangle, the three events attracted inquisitive and imaginative attendees from across not only the city centre, but also communities outside the centre—Toxteth, Dingle, Walton, Kensington, Woolton, and the Wirral—who each brought with them their own experiences of boundaries, tangible and intangible.
(Above: The locations of attendees who filled in our feedback forms after the events – excludes attendees who didn't fill in a form, who lived outside the Liverpool region, or who provided only the first half of their postcode.)
Given Engage Liverpool's recent work on the topic, one "boundary" that attracted significant attention was Liverpool's World Heritage Site boundary – how it was decided, how it perhaps artificially distinguishes between heritage projects "inside" and "outside" its area, and how it intersects with other cultural and historical boundaries and landmarks across the city region.
Our first gathering, at One Fine Day on Old Hall Street, began with an opening provocation from Andrew Beattie, who works in the Baltic Triangle and was fascinated by the recent skirmish on New Bird Street, over a mural painted by a multinational media company. "People who generally feel quite ambivalent about the political or geographical boundaries in the city suddenly felt very strongly that, here, a boundary—an invisible boundary—had been crossed," he noted, leading into a discussion of the people of Liverpool, and the boundaries we cross every day. A few we noted:
The boundary around parks and open spaces – "Nobody walks more than 300 metres to get to green space."
Boundaries and the link to identity – "Am I a scouser, or am I from West Derby?"
Gang boundaries in areas Croxteth and Norris Green – "It's spectacular, these invisible dividing lines. Only in some spaces—like the local school—do the boundaries mix."
Boundaries as control – "The city—us, the council—need to do a better job of educating people about the benefits of sharing, of crossing boundaries and talking to each other."
In particular, survey data from the Institute of Cultural Capital came up a few times. First, as an example of how defining boundaries can fuel exclusion and conflict – "In a 2012 Institute of Cultural Capital survey, the only people who thought the World Heritage Site was a positive thing were people who lived within it." Meanwhile, when asked why they didn't support the WHS, those outside the boundary often said it was because, if the WHS succeeded, it would receive all the funding instead of their local area. While there is, indeed, a scarcity of resources, especially for funding heritage and cultural projects, it was interesting to note that this scarcity was something the WHS was intended to *reduce* by bringing in additional revenue, from outside, for the city as a whole.
The discussion went on with a fascinating interjection from Rob Burns, former Historic England inspector, and Liverpool City Council planning officer, who spoke about the history of the World Hertigage Site boundary, and the criteria of "outstanding universal value" which guided its shaping.
We heard how the topography of Liverpool, the technological history of its docks and railway systems, its role in 19th Century trade routes, and the authenticity and integrity of these "Maritime Mercantile" buildings and areas today, all contributed to the definition of the World Heritage Site boundary, and its designation as a point in space and time that was unique across the whole world.
Looking back at previous Engage Seminars, where cities like Strasburg and Hamburg explained how they used UNESCO heritage rules to raise the quality of development across the entire city, we touched on the classic Liverpool argument of Heritage preventing development. "Liverpool's a city, not a monument," noted one contributor, "You can't stop development, and nobody would want to. World Heritage Status is about managing the change, and maintaining the outstanding universal value."
The night ended with an improptu show of hands, on who felt the World Heritage Site "boundary" was a positive for Liverpool. Unsurprisingly, after such an enlightening discussion, there were no votes against.
A selection of the comments left by attendees on their feedback forms:
"Informative meeting."
"Really enjoyed it – very interesting discussion. Thank you for organising this!"
"Keep up the good work."
"How can we co-design what replaces the flyover?"
Of the attendees who filled in a feedback form:
All but one said they learned something they didn't know before.
100% would come to an event like this again.
Roughly 50% had been to an Engage Liverpool event before.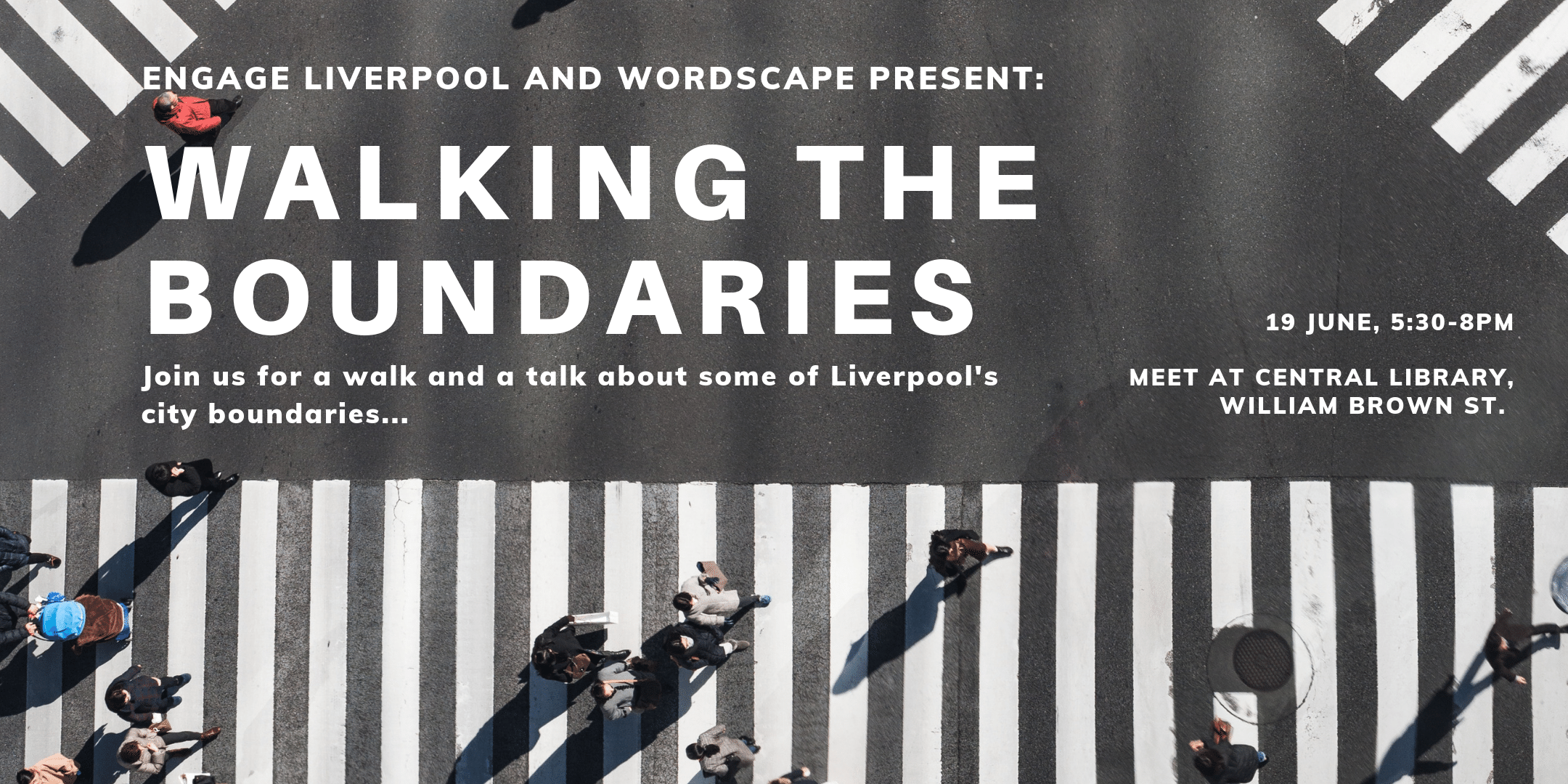 For our second event, we wanted to take the conversation outdoors, and walk the boundaries we'd previously been talking about.
Guided by the excellent Chris Cannon of Hidden Liverpool, we traced a route down from the roof of Liverpool Central Library, along Dale Street and its sideways and alleyways, to the Pier Head.
Our walk took us through physical area boundaries – the "Culture Quarter", the Business District, the Pier Head and the Waterfront, and the motorway-scale Strand Street that separates them. But it also took us through boundaries in time, through the changing tides of people who filled the streets, and the businesses and organisations that came and went.
Crosshall – named after a hall that belonged to John Cross. The Bridewell on Cheapside, one of a network covering the city, ensuring police were never more than a quarter of a mile from a place to lock up criminals. The rainbow flag street signs on Cumberland, Eberle, and Stanley streets, marking the almost-invisible boundary of the Gay Quarter. The Sanctuary Stone on Castle Street – an early tax boundary. And the newly refurbished (and closed to the public) India Buildings, with its "public" arcade that was never actually a public right of way.
"On a walk like this, it's easy to think just in the horizontal—of the streets and the boundaries along them. But I was particularly fascinated by the vertical boundaries we encountered," said Zarino, part of the Engage Liverpool team on the walk. The bricked-up first floor entrances on Moorfields Station, remnants of the Shankland Plan. The first floor cellars and basement crypts of the pubs on Hackins Hey. And the interleaved heights of the dock, canal, and public space on the Pier Head. "It feels like literal layers of history."
Of the attendees who filled in a feedback form:
All but one said they learned something they didn't know before.
All but one would come to an event like this again.
Roughly 45% had been to an Engage Liverpool event before.
In our final event, we moved the conversation outside the city centre to the Florrie, to ask where we can draw the line between Liverpool's heritage and cultural organisations.
Sadly, attendance to this final conversation was limited by the terrible weather, but we still had a vibrant group of around 15 local businesspeople, cultural sector volunteers, and residents – including representatives from four heritage projects outside the WHS boundary:
Anfield Cemetary
Everton Library
Lister Steps / Lister Drive Library
Life Rooms at Walton Library
We heard how the Friends of Anfield Cemetery want to turn its last remaining chapel into a space that can attract tourists and tell the fascinating stories of the locals buried there, and how they relate to Liverpool's maritime and industral heritage.
We saw the "before" and "after" of a successful community library reinvigoration – with the thriving Life Rooms at Walton Library, and the promising developments about to start at Everton Library.
We also heard how depopulation can significantly damage the social heritage in these suburban areas – without spaces that build and reinforce social ties, communities can become dispersed and estranged.
One potential solution we picked up on was the curation of landmark buildings, connected by public spaces and routes for cyclists and pedestrians. A monumental shift of vision – from separate, fortified "boundaries", to a decentralised network of cultural and historical hubs, between which vibrant communities could form and circulate.
There is immense cultural pride in areas outside the city centre, from Anfield to the Welsh Streets, to Tocky and the Dingle. How can this be supported, instead of ignored?
Another suggestion was for local centres of storytelling—like the interactive city map at RIBA North on Mann Island—but documenting the stories of the local community. The centres would need to be well signposted, and served by transport links. The Lake District World Heritage Site was brought up as an example of a vast area with excellent signposting and discoverability.
We ended the evening with a discussion of responsibility. There is clearly a desire to reach beyond boundaries, to draw visitors from—and share visitors with—the city centre, and to build cultural ties between communities and landmark venues outside the centre. But there's a lack of leadership in the space. Is this a role the City Council would want to take on? Or is it something that could be organised by organisations like Liverpool Biennial, who already have cross-city ties?
"To us venues in that 'ring' around the city centre," said on attendee, "it can feel like we're just sitting outside looking in." If cross-boundary collaboration is to come, it needs to work outwards from the centre as much as it works between the heritage venues on the edge.
Of the attendees who filled in a feedback form:
All but one said they learned something they didn't know before.
All but one would come to an event like this again.
Roughly 50% had been to an Engage Liverpool event before.

What have we learned?
Through this series of conversations we've learned how boundaries are formed and re-formed, and what challenges lie ahead in trying to break down some of the boundaries we've built around Liverpool's cultural and historical heritage.
We learned how the designation of a World Heritage Site depends on the "outstanding universal value" of the places and spaces there, and the "authenticity" and "integrity" with which the remaining records of that value are maintained and captialised on. We also heard the arguments for and against expanding Liverpool's World Heritage Site – to drop a contentious dock (!), or to include the Georgian Quarter that grew as a result of the city's maritime success.
We learned how intangible boundaries surround us in everyday life. Walking the streets of Liverpool with our knowledgeable guide, we encountered boundaries horizontal and vertical, through physical space and between drastically contrasting time periods. We saw some of the buildings that mark Liverpool out as a world-class heritage city, steeped in history and storytelling – and we saw some more modern additions that… well… don't.
And we learned how it can feel for community and heritage projects outside the city centre, looking across that boundary, at the seeming monopoly of attention that the central venues get. We learned how these projects are building on the kindness and support of local communities, and we discussed how the city's organisations could use storytelling as a way to weave together the histories and experiences of the city and the wider City Region, across boundaries, without losing that sense of what makes these places special and unique.
We'll now be taking these findings to the city's World Heritage Site Steering Group, so we can share the stories we've heard, and keep the conversations going.
Thank you to everyone who participated, and thank you to our partners Wordscape, who helped us organise these three events. If you'd like to read what Andrew from Wordscape thought of the events, you can read them on the Wordscape blog here (first event), here (second event), and here (third event).