In the debate about the zip wire landing on the roof of the Grade II* listed Central Library in the St George's Quarter Conservation Area and the UNESCO WHS we felt it was important to ask if alternative possible landing places for what the Mayor considers a vital and significant addition to the city centre  had been considered.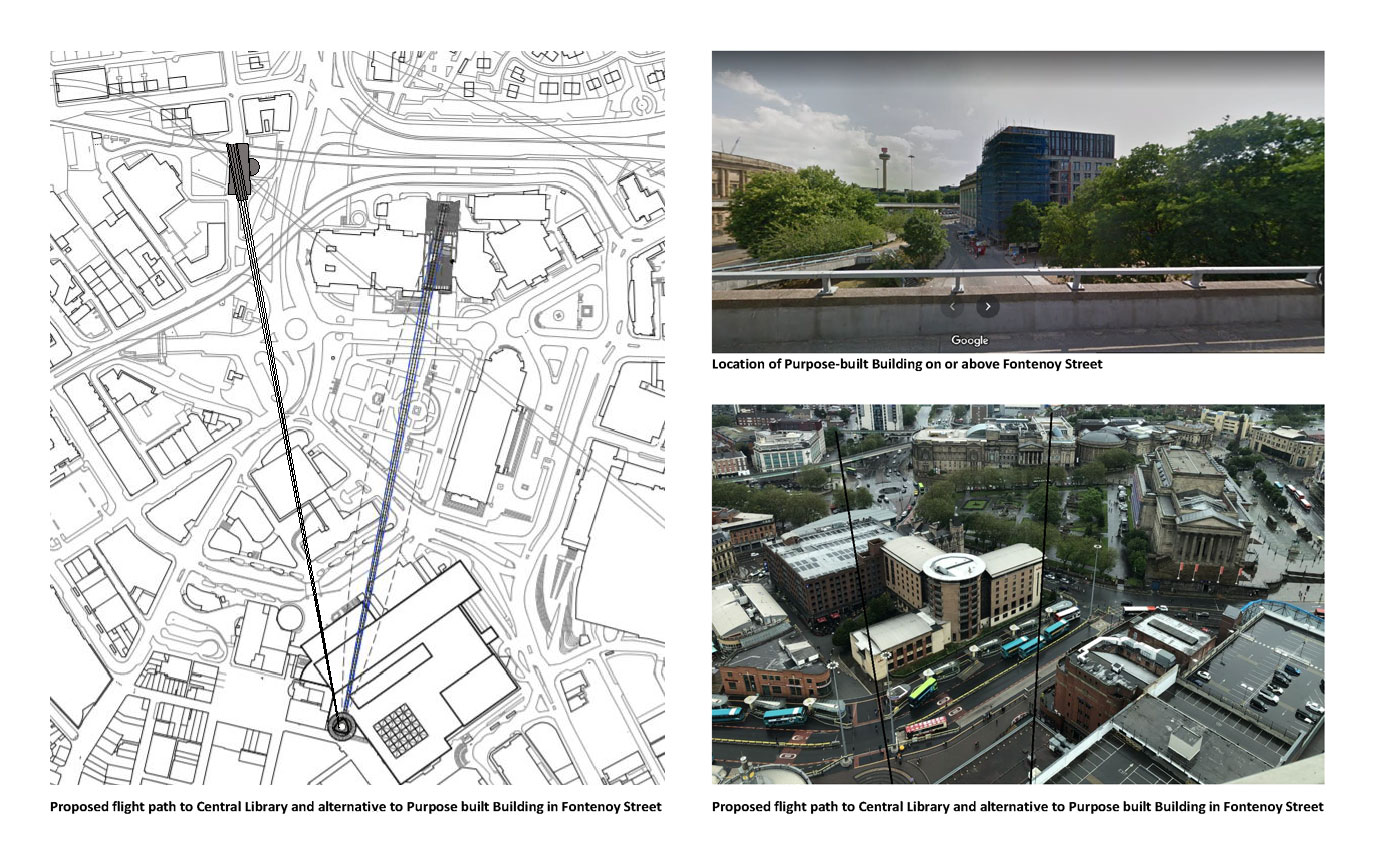 In the planning documentation we couldn't see any evidence that alternative sites had been considered and rejected so we wanted to look at that question and see if there are indeed alternatives to the library. Though like many he would much prefer not to see a zip wire in this part of the city, the drawing above submitted to us by Richard Moore, details a possible alternative route from St John's Tower avoiding passing over St John's Gardens and the sensitive Armed Forces memorial areas (however it does bring the route closer to the Hillsborough Memorial, which of course has already been placed in a location at the side of a busy road, roundabout and entrance to the Mersey Tunnel).
In exploring a landing site away from the cluster of listed buildings it seems that the removal and demolition of the Churchill Way flyover opens up the area round Fontenoy Street that is currently unused land for the possible design of a new building in L3 2AB which is opposite the LJMU Henry Cotton Building. Another potential place perhaps might be the LJMU School of Sport and Exercise Science building at 62 Great Crosshall Street the original building, and not the well-designed extension facing towards Fontenoy Street, which seems to have exactly the kind of roof that would enable the infrastructure to be built for the zip wire. Another possibility that might be considered is to see whether the Marybone community would value having a visitor attraction impacting economically and socially within their area and so maybe anther site to be considered could be the Marybone Youth & Community Association at 79 Fontenoy Street L3 2BE who might appreciate the revenue they would receive to re-invest in their local community. These are just some ideas heard around the city but there will be issues making some of them unfeasible immediately.
Other people have suggested sites in a completely different direction all of which we think should be considered. It seems a shame that no-one thought to invest in a public consultation process to explore with a wider group of citizens, neighbours and businesses where they would like a zip wire attraction to go within the city centre. Now that the Planning Committee has made it's controversial decision there is only a slim hope that Zip World UK will reconsider their plans and look elsewhere, or that the city council will revisit the permission and in the light of a growing opposition decide that the the major disturbances to Central Library are not worth it and it would be wiser to look for an alternative route.
Engage is not opposed to the need the Mayor has to fund the city and the library service in extremely challenging times, nor to the business requirements of those who own and run St John's Tower, but there ought to have been a much wider public engagement programme before a decision of this magnitude was slipped through a virtual planning meeting
You can read other articles about the Zip Wire on this website: